Washing Machine Buying Guide:
how to buy a washing machine
Read the following washer buying guide to learn how to find the best washer to suit your lifestyle.
The average American family washes about 300 loads of laundry annually, according to Energy Star. And while laundry is a never-ending cycle of a chore, the right washing machine helps to lessen the load. Today's washers come with more features and options than ever. Before you go shopping for a new washing machine, bring yourself up to speed on the options available and considerations to take with this washer buying guide.
How  To Measure for a Washing Machine
Know what dimensions you need in a washer by taking the following measurements in inches.
Height of the space from floor to cabinet above
Width of the space
Depth of the space
Depth from back wall to front of current washer
Leave 1 inch on the sides of the washer to allow air to circulate. Venting, hookups and cords require about 4 to 6 inches. Top-load washers need a minimum of 20 inches of clearance above the machine in order to open the door. Don't forget to measure doors and stairways in which the washing machine will have to travel. Also take into account the space from the washer to the nearest water supply line and drain. Extended hoses or a drain extension may be needed at installation.
New Washing Machine Price
Washing machines range in price from approximately $499 for a basic top-load model to $2,000 for a front-load model with all the bells and whistles. Sale prices may differ. Read the washer buying guide below, then talk to your salesperson to decide what style, capacity and features are right for your lifestyle.
Front Load vs. Top Load

Beyond one loading from the top and the other from the front, there are key difference between front-load and top-load washers. Learn more about the pros and cons to decide which style is right for you.
Top-Load Washers
Top-load washers have been the standard design for years, so consumers are most familiar with them.
Pros
Often more affordable

Faster wash times

Less bending and kneeling
Cons
Heavy water usage

Smaller capacities

Agitator machines may cause wear-and-tear to garments
Front-Load Washers
While many top-load machines clean with an agitator, front-load washing machines let gravity do the trick. As your clothes tumble, they rub against each other, helping clean better. Some models can also have the matching dryer stacked on top, saving valuable floor space. Front-load machines require high-efficiency laundry detergent.
Pros
Gentler clean

Better cleaning capability

Energy and water-efficient

Larger capacity
Cons
May cost more

Requires bending or kneeling (unless a

pedestal

is purchased)

Longer wash time
High-Efficiency Top-Load Washers
The more sophisticated cousin of the top-load washer, the high-efficiency version remedies environmental concerns regarding traditional top-load washers. And since it's a high-efficiency machine, you'll need high-efficiency laundry detergent. Note, we don't recommend this washer for people who have heavily-soiled clothing (nurses, construction workers, etc.)
Pros
Uses less water than standard top-loader

Larger capacity than standard top-loader

More gentle on clothes than agitator washer
Cons
Extra depth may make it harder to reach inside (

Pro tip:

Try the reach test in the

store

. Standing on flat feet, see if you can reach the bottom of the machine.)

More expensive than standard top-load washer

Longer wash time
Stackable vs. Side-by-Side

If front-load machines are your pick, then you have another decision to make: stackable or side-by-side.
Stackable Laundry Pair
With a stacking kit, most washers can have their matching dryers stacked on top. This can save space, especially if you have more of a laundry closet than a room. But it can make it difficult to reach the control panels on the dryer.
Some machines come as prestacked laundry centers.
Side-by-Side Laundry Pair
Side-by-side is standard for top-load machines, but works well for front-loaders too. Typically, the washing machine is on the left and the dryer is on the right, making it easy to transfer clothes directly from the washer to the dryer. If you plan to switch this configuration, make sure to ask your salesperson if the door hinges can be reversed.
Use storage pedestals or compact washers to lift your washer and dryer off the ground.
There's only one type of laundry pair that can't be placed side-by-side, because the washer and dryer is all in one unit.
Choosing Washer Capacity
If you are only replacing your washing machine, remember that washer capacity should be about half what your dryer capacity is. This ensures the clothing will be able to tumble properly when switched from washer to dryer.
Tub capacity is measured in cubic feet. When determining what capacity is right for your household, consider the laundry you wash regularly. If you have a large or growing family, you might want a higher capacity washer. 
For a frame of reference, a king-size comforter requires a 3.8 cubic-foot capacity; a queen-size requires 3.5 cubic feet. Most front-load washers and high-efficiency top load machines can handle 24-pound loads. Traditional top-load machines wash 12 to 16 pounds of laundry at a time. 
Front-load washer capacity is determined by an IEC (International Electrotechnicial Commission) rating. The IEC rating indicates the overall capacity that a top-load washer would need to be comparable in size. Because front-load washers don't have an agitator or impeller taking up space, they can handle larger loads with a smaller wash basket.
Washing Machine Colors and Styles
Options in laundry designs and color have increased greatly in the past few years. Though white is still the most popular color, stainless steel, black stainless steel and bold colors like red and blue are making a splash!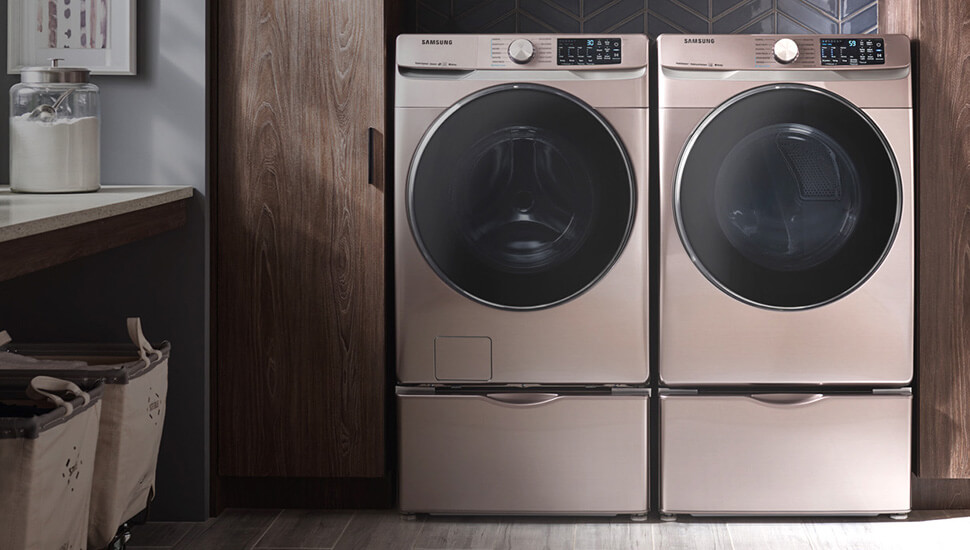 Champagne laundry pair from Samsung
In addition to providing more color choices, washers are designed with increasingly sophisticated control panels and door designs. For example, some deluxe models feature touchless control panels and LED screens.
A growing trend in new homes and remodeled laundry rooms is building laundry into surrounding cabinets and under a counter. The built-in look provides a large, convenient surface for folding clothes and storage. 
Unique Washer Features
Washing machines offer a lot more than basic washing these days. Smart washers allow you to keep track of cycles via your smartphone, troubleshoot issues or rinse and spin clothes if you are not around to switch the load to the dryer. You can add an item through a separate opening mid-cycle and some machine even have separate pre-wash sinks. Also, there are more cycle choices, such as:
Self clean

Heavy duty

Quick wash

Activewear
Rinse & Spin
Steam washers are quickly gaining steam (pun intended) among homeowners for their ability to remove stains, bacteria and odors from garments. Many steam washers also have a sanitize cycle, which uses a longer wash time and hotter water temperature to kill more than 99.9% of common household bacteria. This is a great option for households with asthma and allergy sufferers.
Take the guesswork out of detergent amounts with an automatic detergent dispenser that releases the right amount of laundry detergent at the optimal time during the wash cycle.
When shopping for a new washer, ask your salesperson about the latest features, as technology in appliances is quickly evolving.
We hope you have found this washer buying guide to be useful and informative, and we appreciate the time you took to read through it. If you have questions that were not answered by this guide, please feel free to contact us.