together we conserve
Warners' Stellian is committed to environmental responsibility.
We've teamed up with our customers to reduce waste and conserve water, energy and fuel resources.
Appliance package recycling program
Appliances come with tons of packaging — literally. Not only do we offer responsible appliance recycling, customer support helps us recycle nearly all packaging – including wood, plastic wrap, cardboard, steel and plastic banding, Styrofoam – down to the steel screws. Learn more about our Styrofoam recycling efforts.

Energy-conscious operations
Our warehouse and corporate office incorporate energy-saving architectural elements — such as photo lighting, window glazing and natural heat venting — as well as low-flow plumbing fixtures. Conscientious delivery routing minimizes fuel use. Our delivery fleet vehicles also power off after just 5 minutes of idling.
Solar powered
More than 400 solar and reflective panels on Warners' Stellian's warehouse/headquarters, will provide 20 percent of its power needs. Warners' Stellian invested $300,000 in this effort to decrease its energy usage and carbon footprint, and expects the solar panels to have paid for themselves with energy savings after five years of use.
Energy Star appliances
Find appliances that align with your conscience and lifestyle. ENERGY STAR qualified appliances incorporate advanced technologies that use 10-50% less energy and water than standard models. Warners' Stellian is proud to offer our customers products that have earned the government's ENERGY STAR label. We boast the largest selection of Energy Star appliances in Minnesota and regularly offer appliance rebates to upgrade and save.
Sustainable St. Paul Award winner
Mayor Chris Coleman recognized Warners' Stellian for reducing our waste stream by 75% through our Appliance Packaging Recycling Program. Learn more about the awards.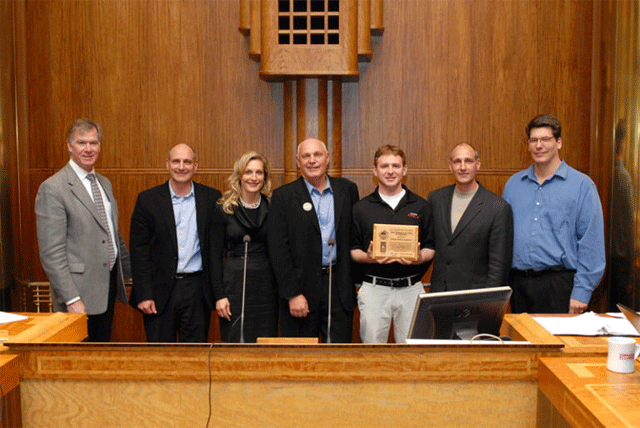 Left, St. Paul Mayor Chris Coleman Bill Warner, Carla Warner, Jeff Warner, Zach Shields and Robert Warner. At right is Council member Lee Helgen.