Stonehearth Remodeling
2618 Coon Rapids Blvd.
coon Rapids, MN 55433
Ph: (763) 427-7330
Memberships: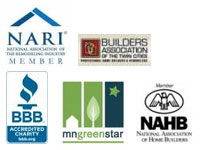 Stonehearth Remodeling
Stonehearth Remodeling is a local, family-owned and operated, residential remodeling company focused on consistently delighting customers with high-quality remodeling work delivered at a fair price.
Stonehearth Remodeling, operated by brothers Greg and Kris Oothoudt, specializes in whole house renovations, additions, kitchen remodeling, bath remodeling, storage solutions, basement finishing and exteriors (roofing, siding and windows).
Recent Awards & Recognitions:
2010 Remodeler of Merit Award – ROMA
| | |
| --- | --- |
| | |
| Photos courtesy of: Stonehearth Remodeling | |