refrigerator buying guide:
how to buy a refrigerator to fit your needs
A refrigerator is one of those things you purchase once in a decade, and shoppers frequently encounter more options than they had anticipated. Refrigeration has advanced in technology and innovation over the years. Now, more than ever before, consumers are offered a variety of sizes and styles to choose from. That's why we've put together this informative buying guide to help you along in the decision-making process.
To begin, use the following questions to help navigate through the key components of buying a refrigerator. Find in-depth information on the topics listed below by simply clicking on any of the following links:
What refrigerator size will best fit in my kitchen?
If you walk into an appliance store shopping for a refrigerator, at some point, the salesperson will ask for the dimensions of your opening. A common answer to this question is: the space is a standard size. Though many appliances such as ranges & dishwashers are reasonably standard in size, refrigerators are not. Knowing the maximum height, depth and width of your space is crucial in selecting a new refrigerator. Size is the number one factor in narrowing down the models that fit your needs.
As a general rule, most refrigerators today are designed to fit a 30″, 33″, or 36″ wide opening and a 66″, 68″ or 70″ high opening. If your opening is 36″ wide and 70″ high, you will have a wide selection of models to choose from. As a rule of thumb, you should allow 1″ of clearance on each side of the refrigerator for breathing room. One thing to note is that refrigerators have become deeper over the past ten years which may affect the type of refrigerator you need.
There are two other factors to note when considering dimensions. The first is that most manufacturers list refrigerator height with and without the hinge cap. Since the hinge cap is located near the front of the refrigerator, it would not interfere with upper cabinets that are recessed. In the case of recessed cabinets, only the height to the top of the case would be relevant. Secondly, if the refrigerator is to be placed against a side wall, it's important to consider whether or not the handle of your new refrigerator will open into that wall -which may prevent the door from opening a full ninety degrees. As a general rule, if the refrigerator is going to be placed against a side wall that prevents the clearance of the door handle, then the refrigerator should be 3″ narrower than the opening. return to top
What can I expect to reasonably budget for a new refrigerator?
When considering a new refrigerator, know that there is a workable model for any budget, whether it's a second unit for keeping soda in the basement, or the built-in refrigerator of your dreams. The primary factor that will determine the price of your refrigerator is its configuration. The most affordable style is the top freezer configuration, with small apartment units starting around $350. Side-by-side refrigerators with ice & water dispensers start at around $1000. Single door bottom freezers start and French door refrigerators start at $950-1150. Consumers looking for a premium built-in refrigerator, such as Liebherr, Miele, and Sub-Zero, are typically looking at an entry price of around $3700.
Above and beyond your refrigerator configuration, upgrading to stainless steel from a standard black, white or bisque finish will typically add $100-$300 to the price depending on the model. Moving from a basic size refrigerator to the largest capacity model available in the same configuration will generally add $100 or more, depending on the model. Upgrading from a standard depth model to a cabinet depth equivalent, if available, will add $300-$500 to the price.
Most refrigerators come out of the box ready for immediate use, with complete shelving, bins and a water filter (when applicable). Some refrigerator accessories you should consider include replacement water filters for ice and water dispensing units, scuff shields to protect your floor on the occasions you need to move the refrigerator, and stainless steel polish for effort free polishing. return to top
What types of refrigerators are available?
Freestanding Refrigerators


The freestanding refrigerator has enjoyed many years of popularity and continues to be one of the most commonly used styles today. Though freestanding refrigerators have advanced greatly from a storage and efficiency standpoint , a new challenge has been added – depth. As government and consumer energy requirements have become more stringent, manufacturers have added more insulation to retain temperatures in the refrigerator. Though this insulation has increased efficiency it has also added to the overall depth of refrigerators.
Consequently, if you are replacing a refrigerator that is ten or more years old, you may find that today's refrigerators are 2-4 inches deeper than your existing model. In many cases, this is not a problem. The kitchen cabinets may be deep enough to accommodate this change, or there may be a recession in the wall that allows the refrigerator to be pushed back. In either case, a freestanding refrigerator is a great choice – as long as it fits.
Cabinet Depth Refrigerators


Manufacturers have focused their attention on a growing segment of refrigeration known as cabinet depth. Cabinet depth refrigerators are designed to give your kitchen a sleek and seamless look. They feature a shallow 24″ depth, allowing for the refrigerator doors to align nicely with the surrounding cabinetry, creating more of a "built-in" look for your kitchen. Cabinet depth styling is most commonly found in side-by-side models, but can also be found in top freezer models, bottom freezer styles and french door refrigerators. Cabinet depth refrigerators offer convenient features such as roomy interior shelving and spacious door bins. It means achieving a built-in look without having to sacrifice any valuable storage space.
Built-in Refrigerators


For a refrigerator that is completely flush with your cabinets – even more than a cabinet depth style – you will want to investigate built-in refrigerators. Built-in refrigerators are typically 84″ high, and available in widths ranging from 24″ to 48″ wide. Some manufacturers offer thin column units that can be located in different areas of your kitchen for ease of design. The built-in style is perfect for consumers who wish to use custom panels and glass doors to integrate the refrigerator into existing cabinetry. Manufactured with unfinished sides, a built-in refrigerator is installed right inside a cabinet, much like a wall oven. Built-in refrigerators differ immensely in size and style so we recommend that you speak with one of our knowledgeable sales associates before ordering one.
Under-counter Refrigerators


A popular trend in kitchen design is to supplement existing refrigerator space with an under-counter refrigerator, wine cooler or combination unit. The increasing demand for this type of product has led to an explosion of choices in the under-counter refrigerator industry.
For installation purposes it is important to note the difference between a basic under-counter (or dorm) refrigerator and a true built-in refrigerator. Basic under-counter units vent heat out the back, and require a 2-5 inch clearance on each side for proper ventilation. They are designed primarily for use in a freestanding application. They range in price from $150-$700.
Under-counter units which vent heat out the front are designed specifically for a built-in application. Since these units do not require clearance for ventilation they can be installed completely flush with the cabinetry. Built-in units are more expensive than freestanding units, with base models starting at $1000. Depending on how you choose to design your kitchen or wet bar, be sure to confirm that the product you choose is right for your application.
Most under-counter units are 24″ wide and 34″ high – designed to fit beneath a standard counter. These models are generally available in black, white, stainless steel, or integrated front (for use with custom-panel). For unique situations, there is a small selection of ADA compliant models available for designs that involve a shorter-than-normal counter. Some models can also be ordered in 15″ wide or 30″ wide designs. return to top
What styles of refrigerators are available?
Top Freezer Refrigerators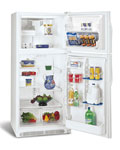 The top freezer refrigerator is a classic, standard design and is among one of the most popular styles in the market place today. The layout conveniently positions the freezer at eye level while the refrigerator compartment offers wide shelves, making it easy to store large trays of food and allow easy access to things stored in the back of the refrigerator.
For refrigerator spaces smaller than 30″ wide or shorter than 70″ high, the top freezer style offers the greatest variety of sizes to choose from. From a budget perspective, top freezer refrigerators are an affordable style that boast convenience features such as factory-installed ice makers, chilled water dispensers (on some models), glass shelves and energy efficient operation.
Side-by-Side Refrigerators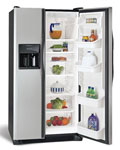 Side by side refrigerators feature two full-height compartments doors that open from the center. The freezer compartment is located on the left side and the refrigerator compartment on the right. For kitchen layouts with narrow walkways or an island, the side-by-side refrigerator provides the benefit of requiring less door swing clearance. Another great benefit of the side by side refrigerator is a filtered ice and water dispenser. Enjoy chilled, clean-tasting and odor-free ice & water on demand. Most side by side refrigerators are 23-26 cu. ft. offering more overall cooling space than most top freezer refrigerators!
Bottom Freezer Refrigerators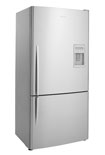 The bottom freezer refrigerator has become today's most popular refrigerator style. Statistically, most people access the refrigerator compartment 9-10 times more often than they do the freezer. By locating the freezer on the bottom, the refrigerator section is brought up to waist or chest level for maximum accessibility. Many brands offer a choice of either a swing-door freezer or pull-out freezer drawer. The drawer design allows for easier access to the back of the freezer by minimizing the amount of bending and crouching needed. From a budget perspective, bottom freezer refrigerators have become increasingly more affordable as more manufacturers, such as LG and GE, have introduced a greater selection of units to the industry.
French Door Refrigerators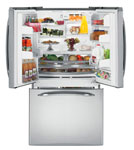 Taking the "best of both worlds" approach, French door refrigerators have become the industry's fastest growing and most deluxe refrigerator style. The refrigerator compartment is at waist and chest level with the french doors (side-by-side) opening from the center. This allows for symmetrical styling and an easier installation as less door clearance is needed if a walkway or island is involved. The French door design provides an added benefit of wide refrigerator shelves which are great for storing large party trays or oblong dishes. Similar to the bottom freezer style, French door refrigerators feature a freezer drawer design. Many models also offer the option of an external ice & water dispenser or an internal water-only dispenser. For the maximum in form, style, and function, the French door refrigerator is an excellent choice.
What color or finish do I want my new refrigerator to have?

Most refrigerators are offered in black, white or stainless steel – usually with corresponding-colored cabinet and handles. Stainless steel refrigerators generally have painted gray, black, or stainless steel cabinet and handles, depending on the model. Bisque, or off-white, is also an option but is not as commonly available as the other colors. Most colored refrigerators offer the traditional textured, or "alligator" finish. A greater number of refrigerators, however, are switching to a smooth, high-gloss finish, which offers a sharper appearance, better matching the sheen of your dishwasher, stove, and microwave (almost all of which have smooth fronts). Some manufacturers (like Viking) offer a variety of custom colors like burgundy, lemonade yellow, deep blue and many more for those with a passion for design.
For the ultimate in style, many manufacturers offer panel ready refrigerators. These units come out of the box with unfinished doors allowing you to design custom panels to match your kitchen decor. These panels are then attached to the doors when installed, allowing your refrigerator to be seamlessly integrated into the existing cabinetry. return to top
What do I need to know about ice & water dispensers?

For many years, refrigerator manufacturers offered the option of a built-in automatic ice maker. Today, many refrigerators come out of the box with a factory-installed ice maker. For models that do not include a factory-installed ice maker, one can usually be added for a minimal charge. In order for an ice maker and/or water dispenser to work, a 1/4″ waterline is required. Typically this waterline (copper or plastic) is run from an existing source within the kitchen or basement. Depending on the design of your kitchen, you may have an existing water line. If not, a licensed installer or local plumber can assist you with installing a proper line.
Though the standard ice shape is a crescent or half-moon, some manufacturers are able to generate alternate ice shapes such as cubes and bullets. In addition to internal ice makers, many refrigerators have implemented exterior ice and water dispensing. External dispensers are most commonly found on side by side refrigerators, but have recently been introduced on more French door refrigerators as well.
External ice dispensers generally provide the choice of cubed or crushed ice and internal reservoirs in the refrigerator section are used to chill the water before it is dispensed. Refrigerators with water dispensers also include built-in water filters which are easy to replace and should be changed once every 6 months, depending on use.
Some people prefer a water-only dispensing system with a factory-installed ice maker in the freezer. One benefit to a water-only dispenser is that it uses only a small spigot for dispensing and prevents space in the refrigerator and freezer to be used on a large ice-dispensing system.

To enjoy chilled water from the refrigerator without having to look at an external dispenser, consider a refrigerator that features an internal water dispenser. These dispensers, located on the inside of the refrigerator compartment, have a small push button and a spigot to dispense filtered, chilled water. They are out of sight yet conveniently located inside the refrigerator for easy access.
Most ice and water dispensers have child locks on the outside. While some are a simple on and off switch, other units will require you to hold down a specific key on the dispenser for five seconds to lock and unlock the dispenser from operation. This feature is useful for preventing children or thirsty household pets from making a mess by playing with the dispenser. return to top
How can an energy efficient refrigerator benefit me and the environment?

As our world becomes more green, energy efficiency has become more important in our everyday lives. The refrigerator is no exception. Today's refrigerators have smaller, much more efficient compressors than refrigerators of the past. In addition, refrigerators now use more insulation for maintaining temperature. You can use this online calculator (provided by Energy Star) to determine how much money you can save in utility bills by using an energy efficient refrigerator.
Keep an eye out for refrigerators that have an Energy Star symbol. This means that the unit uses 20% less energy than federal standards and 40% less than conventional models sold in 2001 (source – Energystar.gov.) Keep in mind that as refrigerator capacity increases, so does its energy consumption. For example, a 25 cubic foot French door refrigerator may be more energy efficient than an 18 cubic foot top freezer refrigerator, but could still consume more dollars because it is cooling more cubic feet. Most refrigerator manufacturers publish annual electrical consumption and utility costs for each model. These documents can be found online or on the product tag. return to top
What are some unique features on new refrigerators?
Most people shopping for a new refrigerator are happily surprised to find that features which were at one time reserved for top-of-the line models are now commonplace and standard.  Some examples of this include:
Function:
Frost-free operation – the vast majority of today's refrigerators are frost-free.
No-Clean Condensers utilize a fan to eliminate heat-trapping dust particles and eliminate the need to clean the dust bunnies from under the refrigerator!
Tempered glass shelves with spill-proof edges- these shelves are designed to keep leaky beverage containers from spilling liquids down the inside of your refrigerator.
Gallon Storage Door Bins- make it easy to keep gallons of milk and juice in the door freeing up precious shelf space.
Deli Drawer – many refrigerators offer a deli drawer with a switch that allows cool air to flow into it – providing a slightly lower temperature to better preserve meats and cheese.
Chilling Drawer – more deluxe refrigerators feature a chilling drawer that when activated brings air directly from the freezer into the compartment. A chilling drawer like this can bring a bottle of soda from room temperature to ice cold in fifteen minutes!
Humidity Crispers & Moisture Controls -refrigerator compartments have been upgraded with moisture and humidity controls to maximize food preservation. Humidity crisper drawers include a baffle switch that retains moisture; leafier vegetables such as lettuce and cabbage benefit from a more humid environment, while a drier climate is ideal for skinned products such as apples or tomatoes.
Dual-Compressor System – a refrigerator with two cooling systems forces air directly (and separately) into the refrigerator and freezer compartment. This cooling process preserves food substantially longer than a one-compressor system because the food's natural internal moisture is better retained. Overall, it is also more energy efficient.
Design:
Flat Back – today's refrigerators enclose the cooling coils on the bottom of the refrigerator, rather than on the backside of the refrigerator – making it possible to push the refrigerator flush up against a wall.
Hidden Hinge- many refrigerators have unique aesthetic designs. Refrigerator doors on certain models are built taller than their hinges to hide them from view, resulting in a more built-in look.
Electronic / Digital Controls -some deluxe refrigerators allow the user to set the temperature numerically – rather than choosing a one through seven sliding scale. This enables the user to set the temperature to the exact number they wish. The freezer temperature can be set to exactly zero degrees and the refrigerator temperature to exactly thirty-five, for example.
How can I further protect the investment of my new refrigerator?

Most manufacturers offer a one year limited warranty on their product. For as little as $50 Warners' Stellian offers a Product Protection Guarantee designed to keep your new refrigerator operating as efficiently in the future as on the day you purchased it. Our Product Protection Guarantee covers all functional parts and labor on your new appliance for up to two, three or five years. return to top
We hope you have found this buying guide to be useful and informative and we appreciate the time you took to read through it. If you have questions that were not answered by this guide, please feel free to contact us.