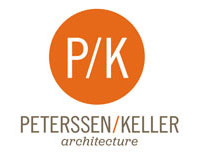 Pettersen/Keller Architecture
1610 W. Lake St.
Minneapolis, MN 55408
Ph: (612) 353-4920
Memberships:

Peterssen/Keller Architecture
Peterssen/Keller Architecture is a full-service architectural firm that specializes in award-winning homes, lofts, cabins and boutique commercial projects. Our collaborative, client-focused design process results in unique residences that are as distinct as their owners.
We integrate sustainable design practices into every project, from small additions to LEED-certified new homes, finding solutions that merge environmental thinking with exceptional design. At Peterssen/Keller, every client is our passion, and every project is an opportunity to create a home crafted to last a generation.
Awards & Recognitions:
2008 regional Sub Zero/Wolf Kitchen Design Award (Lars Peterssen)
2006 regional Sub Zero/Wolf Kitchen Design Award (Lars Peterssen)

Photos courtesy of: Pettersen/Keller Architecture