St. Paul based Warners' Stellian: Staying power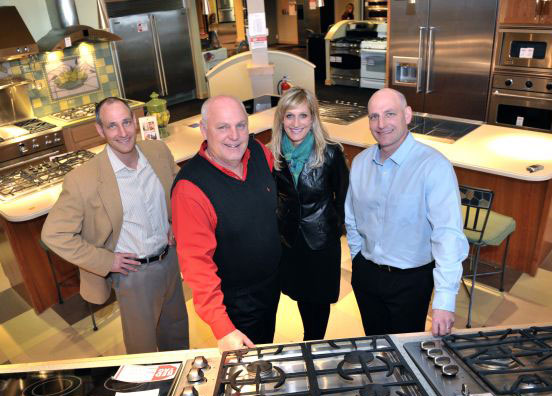 By Neal St. Anthony and Sarah Gorvin, Star Tribune
Why has Carla Warner, the vice president of sales at Warners ' Stellian, been the advertising face behind the stoves and washing machines sold by the family-owned retailer since 1991?
"Because I'm the only one with hair," laughed Warner, taking a shot at her three receding-scalp brothers who also are company executives. "And they get me for free."
Although she's the most visible among Warner employees, Carla Warner, 45, is just one reason why the St. Paul-based company appliance retailer has survived the Great Recession of 2008-09 and is poised for its best year since 2006. The 200-employee company managed expenses aggressively as sales dropped 10 percent from 2007 to 2009.
"Our business has been upticking modestly since last October," said President Jeff Warner, 53. "We've budgeted for a 2 percent revenue increase this year. We're on track so far to do better." The company has even hired a few folks recently.
Warners' Stellian, which expects sales around $65 million this year, has patiently expanded from one St. Paul store to seven sites in the Twin Cities and Rochester in the past 25 years as smaller competitors failed or sold out. And Warners' has grown even as it's competed with big-box giants Best Buy, Lowe's, Sears, Home Depot and appliance discounter ApplianceSmart.
"They're bigger, but they don't have half the appliance brands we do," Carla Warner said. "We are 'the' appliance store."
Commercial history is replete with family-owned companies that splintered for reasons from greed to jealousy to a desire to simply cash out. "Our parents are good and humble people," Carla Warner said. "They taught us."
All the kids worked for the family company at one time or another. But only four of the nine children of founder Jim Warner, 81, and Wynona Warner, 79, are employed by Warners' Stellian. There also are a dozen grandchildren and spouses scattered amid the warehouse, offices and stores.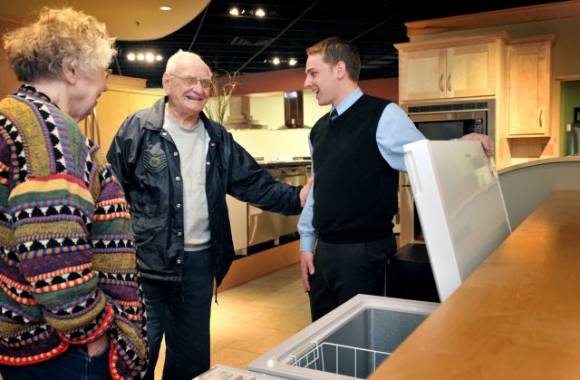 Aided by government rebates on energy-conserving appliances, the company set a new sales record of $2.6 million over one weekend in March.
Warners' executives credit making it through the recession to a 2006 software upgrade that allowed them to manage hundreds of thousands of dollars in outstanding accounts receivable. The sale of their old warehouse also helped raise capital. It also helped that only 20 percent of their business was through home builders, who suffered as the housing boom went bust.
"Our $500 [warehouse] sale [and] that appliance-replacement retail customer [are] very important to us," said Robert Warner, 41, vice president of operations, who started as a warehouse rat as a teenager. "That's the foundation. And we sell a lot of $1,500 kitchen packages. More than 200,000 households have let us into their homes over the years. You develop trust. And you earn repeat business."
In 1954, Jim Warner took a sales job at Stellian's appliance store on Snelling Avenue in St. Paul. In the 1960s, he acquired the Stellian Co. and renamed it Warners' Stellian. The company has survived seven recessions since then.
The Warner kids grew up in a one-car family where they were expected to work for modest wages after school.
'No sense of entitlement'
"We were taught to check our ego at the door," Jeff Warner said as he walked through the warehouse, greeting a dozen employees by their first name. "We know our employees. We've worked all these jobs. There is no sense of entitlement."
The family board is overseen by Jim Warner, 56, the non-employee chairman who is a veteran CPA and who has worked with many family businesses.
Jim Warner said the business wasn't a fit for some of his siblings who went on to do other things. The family also has used consultants to focus on long-term planning and the transition to third-generation management and board of directors.
"We haven't done everything right," Jim Warner said. "And I'm not saying we wouldn't sell if somebody came along and offered a huge check. But we try to run a professional organization that recognizes the contributions of all employees. We're fortunate for our success and the patronage of Warners' Stellian by generations of our customers."
Bill Monson, director of the Center for Family Enterprise at the University of St. Thomas, who has counseled the board, said Warners' Stellian has beaten the odds: Only a third of family businesses survive into the second generation; about a third of those will survive into the third generation.
"This is a family both between generations and within generations that exhibits a lot of respect and appreciation for each other's talents," Monson said. "They've made some smart moves. They have, in fact, built a pretty impressive strategic positioning."
One day last month, Jeff Warner showed off a $100,000 machine in Warners' energy-thrifty warehouse that compacts tons of plastic foam packaging that can be recycled into new material. That investment, among others, that has helped Warners' turn a modest profit on its waste-abatement efforts. The $6 million, 150,000-square-foot warehouse in St. Paul was built in 2005 to move up to $100 million worth of inventory a year. So therer's plenty of room for growth.
He discussed the company's commitment to retain employees through above-average compensation programs and why there is no sure path to the executive suite for third-generation family members.
"They all are our people, whether family or not," Warner said.