McDonald Remodeling
6015 Cahill Drive
Inver Grove Heights, MN 55076
Ph: (651) 554-1234
Memberships: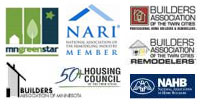 McDonald Remodeling
Cook up a new kitchen. Make it the pulse of family activity. Your entertainment capitol. Or both.
McDonald Remodeling can help you realize dreams on any scale.
We are a design-driven, award-winnng, full-service home remodeling contractor with a passionate focus on aesthetics, integrity and detail. Our additions, renovations and remodeled rooms are customized to each client.
Plus, our Practical GreenSM Remodeling Solutions can add unsurpassed efficiency and value to your home. See full details and extensive photos on our website.
Recent Awards & Recognitions:
Mpls. St. Paul Magazine June 2009 "Outstanding Remodels"
Mpls. St. Paul Magazine Winter 2009 "Remarkable Remodels"
Contractor of the Year (COTY) Awards 2008 "Residential Interior Specialty Winner"

Photos courtesy of: McDonald Remodeling