Appliance Repair Technician (full time)

Job Opening – Warners' Stellian  
Up to $3000 signing bonus + ongoing incentives
Your new career starts today. Work for a local and stable company that treats you like family.
Location: Ankeny, IA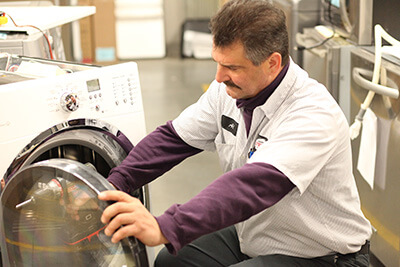 Job description: As an Appliance Repair Technician, you will represent Warners' Stellian in customers' homes in a professional manner to repair appliances while maintaining a company vehicle and proper documentation of completed service calls.
Compensation: Earn up to your potential with performance incentives beyond base salary.
Benefits:
Medical / Dental and supplementary insurance available
Paid time off
401K and Profit Sharing
Paid training available
Company vehicle and uniform provided
Wellness program including health club reimbursement program
Cell phone and laptop provided
Dispatch from home
Competitive base pay + incentives
Work hours: Day shift, overtime available
Job responsibilities include:
Diagnose and repair appliances in home
Keep company vehicle stocked and clean
Maintain communication with supervisor and Customer Service staff
Maintain proper documentation of all work orders
Qualifications:
Valid driver's license
Good communication skills
Maintain a professional appearance
Previous appliance repair experience and Appliance/Refrigeration Repair Certifications preferred, but not required (training available)
Able to pass a drug screen and DOT physical
Willing and able to lift heavy appliances on a daily basis

Have questions? Email us
Company overview:
Warners' Stellian is a family-owned and operated appliance retailer. We have nine stores in the Minnesota Twin Cities Metro area and one south of the Twin Cities in Rochester, Minnesota. A new store will be opening soon in West Des Moines, IA. Our corporate headquarters and warehouse is located in St. Paul near Dale Street and I-94 East. The company has a unique culture with strong values, high standards and a positive work environment.We offer competitive salaries and benefits and are always looking for individuals who really care about providing exceptional customer service.
Core values: Passion, Inspiration, Customer Focus, Fairness, Loyalty, Family.
To see all current job postings visit our employment page