dryer not drying?
check the vent
If your clothes still are damp after a dryer cycle or you're increasing the drying time, you probably need to check your dryer for clogs or damage that slow moist air from leaving the dryer.
Run your dryer and go outside to check the air coming out of your exhaust hood. If you feel less air movement than a blow dryer on its highest setting, the dryer's exhaust hood or interior vent could be clogged.
First, clean dried lint from your exhaust hood and make sure to clear any blockages such as leaves or overgrown plants.
If your air movement still seems subpar, clean the lint from the entire length of the system. You should do this about every two years to keep your dryer running its best and to prevent risk of fires.
(See "How to Clean A Dryer Vent" video on YouTube.) If this seems involved, consider replacing your venting — it's relatively inexpensive.
Also, replace any venting that's been kinked or crushed (see example below) with rigid or flexible heavy metal venting at least 4 inches in diameter. NEVER use plastic or metal foil venting.
To prevent clogs in the first place, clean your dryer's lint filter after each use and keep your exhaust vent unobstructed.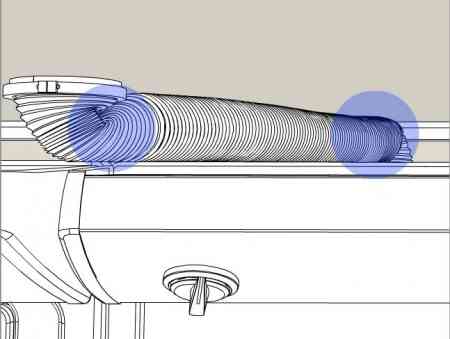 See our appliance resource center for more tips.