cleaning your washer
–
3 tips on how to clean a smelly washer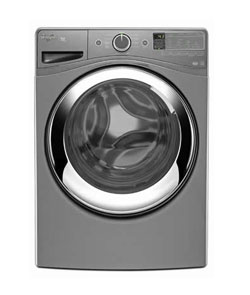 Front-load washers earned the reputation for being high-efficiency, Eco-friendly machines with outstanding cleaning power … that smell bad. So why do front-load washing machines sometimes smell? For many of the reasons that they're generally better machines, ironically enough.
High-efficiency washers use MUCH less water, so more residue and detergent can be left behind after the cycle. Both front- and top-load washers that are high-efficiency can suffer from this, but high-efficiency top-load washing machines are less common.
Constant cold water cycles can also contribute to the stink, as they don't always fully dissolve dirt and grease from the interior of the wash tub. Also, the tightly sealed door, left closed after a wash cycle, might not dry completely, which leads to the growth of odor-causing bacteria (Think: when you leave wet clothes in the washer for too long).
Luckily, the solution is as easy as 1-2-3. I know it's cheesy, but if you remember these three easy steps, your nose will be in the clear.
1. Keep the gasket dry
The crevasses of your washing machine gasket, which is the rubber seal that runs the perimeter of the door and opening, is a favorite place for moisture and residue to hang out. Keep a rag handy to quickly wipe this area dry after you're done with laundry for the day.
2. Keep the washer door open
After you wipe down the gasket, fight the urge to shut the door. Don't you hang a wet beach towel out to dry? Same thinking. Let the washer air out so there's no opportunity for the mildewy smell to develop.
3. Use a washer cleaner
Use a cleaner formulated specifically for the interior of the machine, such as Affresh, once a month to prevent odor. And if your washer already smells, you should use Affresh three times to get back on track.
These steps have become second nature for us in using our front-load laundry pair. And it's worth it for the money savings in utility costs, the huge capacity and the superior cleaning.
See our appliance resource center for more tips.