Coon Rapids Appliance Store
3440 129th Ave NW
Coon Rapids, MN 55448
Main: (763) 421-5720
Email our sales team
Store Hours
Mon-Fri 8:30am – 9pm
Saturday 8:30am – 5:30pm
Sunday noon – 5pm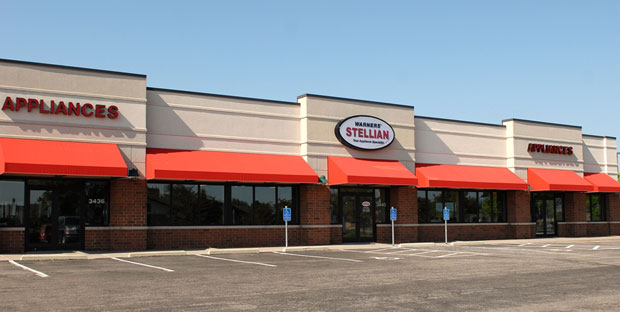 Click here to schedule a one-on-one showroom visit or phone consultation. Text us at 651-222-0011.

Join our team! See more about career opportunities at Warners' Stellian

Warners' Stellian appliance store in Coon Rapids virtual tour
Visit our Coon Rapids appliance store located on the northeast corner of HWY 10 and Round Lake Boulevard, across the highway from Riverdale. We opened this store in 2012. We're very excited to join the city of Coon Rapids, and to more conveniently serve our North Metro customers, including Andover, Blaine, Anoka, Ramsey, Champlin, Ham Lake, St. Francis, Zimmerman, Oak Grove, Cedar & East Bethel.
Our huge selection offers over 50 of the best appliance brands from around the world, and recently remodeled kitchens help you imagine your new appliances in your own home. Whether you're looking to replace a dryer or outfit a dream kitchen, our appliance specialists will help you select the product right for you, at the lowest final price guaranteed! As always, Warners' Stellian customers enjoy largest in-stock selection of every budget & style, free local delivery on qualifying orders and professional installation you can trust. Visit us soon, and join over 500,000 customers who've made us Minnesota's largest independent appliance seller.