Appliance Finishes  Guide:
finding an appliance finish that fits your needs
From black stainless steel to matte finishes or panels, we'll help you find an appliance finish that's perfect for your home.
Home appliances are a major investment, so when you're shopping for new ones it's crucial that you conduct proper due diligence to ensure you're purchasing new appliances that match your home, lifestyle and budget. In addition to measuring a space and researching brands and features, you also need to consider appliance finishes – from stainless steel or matte – and colors like black, white or even Whirlpool Sunset Bronze. To help you choose a new appliance finish and learn more about your appliance finish options, we've created this handy guide.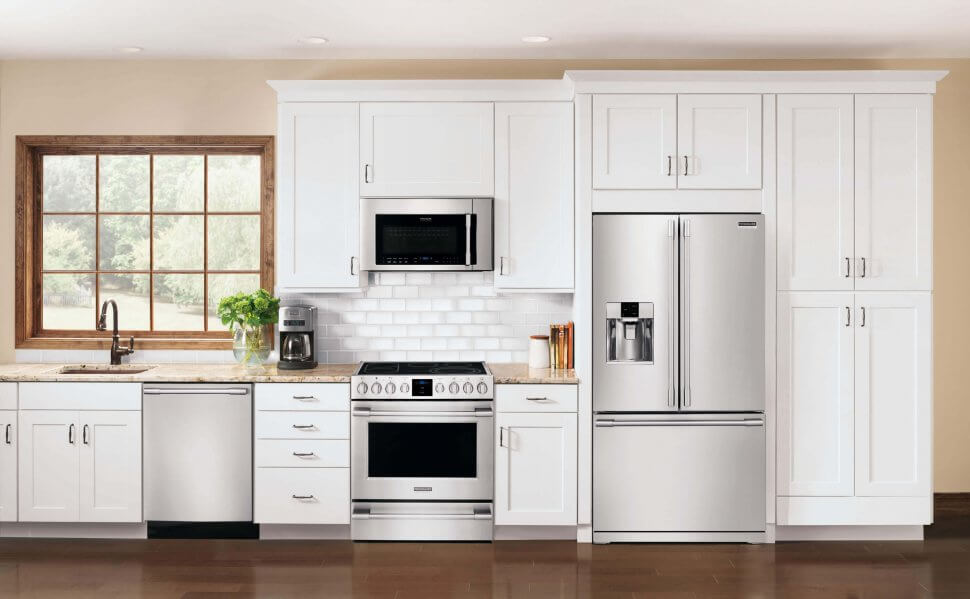 Frigidaire stainless steel
Choosing an Appliance Finish
When deciding on an appliance finish, consider the design of the room. Are you replacing just one appliance? If so, you probably want the new finish to match your existing appliances and the décor of the room. However, if you're buying a full laundry pair or kitchen package, you have more flexibility to choose an appliance finish that matches your taste. Dive into the following options.
Matte Appliances vs. Stainless Appliances
Do you prefer a shiny finish or a matte finish? Each comes with its own benefits. Stainless steel offers a sleek look, but you might need to clean more often because it doesn't stand up to smudges and fingerprints. Matte hides fingerprints better and provides a rich, warm tone.
Matte Finish Options
Check out the following matte finish options for appliances. Note that although some finishes are called black stainless, they fall under this matte category in terms of look and feel.
GE Slate
Slate from GE protects the appliances from fingerprints with its matte finish in dark gray. A relatively new finish option, it's quickly gaining in popularity. Slate blends well in contemporary kitchens and matches a wide variety of cabinetry.
GE Black Slate

Black is back! Black Slate from GE is both versatile and attention-grabbing. Its deep charcoal color blends well with modern cabinetry and metallic hardware and accents. Like Slate, this smudge-proof finish keeps your appliances looking clean.
LG Matte Black Stainless Steel

Providing the best of both worlds, LG offers a Matte Black Stainless Steel, which combines the durability of a stainless appliance with the fingerprint-resistance of a matte finish.
KitchenAid Black Stainless Steel
The originator of black stainless steel, KitchenAid Black Stainless Steel has a brushed metal surface that provides a matte appearance and feel. KitchenAid Black Stainless Steel also uses a PrintShield™ Finish, which helps keep your refrigerator smudge-free and easy to clean.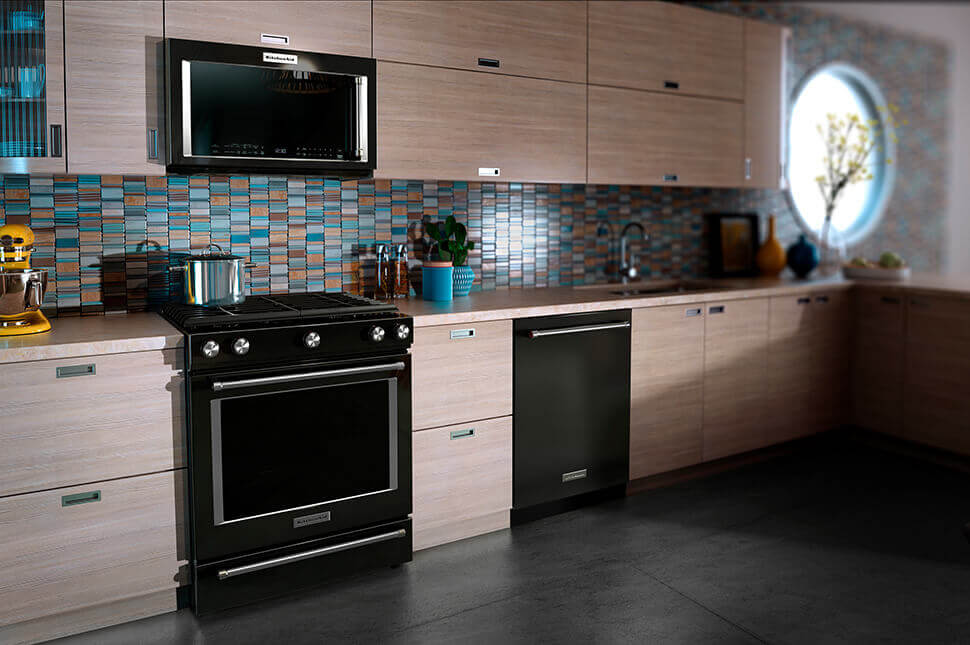 KitchenAid Black Stainless Steel
GE Café Matte Black and White

The newest GE Café series is extremely customizable, allowing homeowners to choose appliances that reflect their unique style preferences. Shoppers choose between Matte Black and Matte White, then further customize with the following hardware options: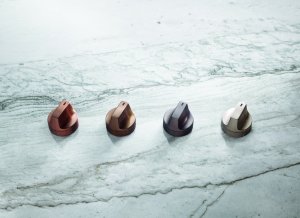 Brushed Copper
Brushed Bronze
Brushed Black
Brushed Stainless
Whirlpool Fingerprint-Resistant Stainless Steel
Whirlpool also offers stainless steel appliances in matte black. These appliances hide smudges and are easy to clean, making them ideal for houses with little ones.
Stainless Steel Appliance Finish Options

Stainless steel is a very durable finish carried by a large number of brands and comes in two main options: traditional stainless steel and black stainless steel.
Stainless Steel

One of the most popular and timeless finishes, it's no surprise stainless steel is manufactured by a number of brands, including Frigidaire, Whirlpool, Samsung, GE, Maytag, LG, Bosch and Jenn-Air. Similar to what you would see in commercial kitchens, stainless steel offers a professional-grade appearance. The bright, shiny finish makes a kitchen look clean, crisp and new. Stainless steel blends with a number of kitchen styles from traditional to modern.
Black Stainless Steel

Produced by Samsung, Frigidaire, GE, LG and more, black stainless steel is gaining steam among homeowners. The shiny finish hides smudges and fingerprints better than its traditional stainless steel counterpart. The true color of black stainless steel varies from brand to brand, so know that you can't mix brands and expect a perfect match.
Appliance Finish Colors

Much like the old avocado green, appliance manufacturers still experiment with colors from time to time. With brands like Danby, Smeg, True Residential, American Range and Elmira Stove Works, you can purchase appliances in unique color options. KitchenAid's Dual Fuel Range comes in Signature Red (think of its stand mixer) and Cobalt Blue, in addition to Imperial White and Imperial Black. These options work well when selecting an accent appliance, but be wary when choosing an entire set in a less common color. If the color is discontinued down the road, it could cause difficulties if you want to replace just one appliance rather than the whole set. The most common and traditional colors for appliances are black and white.
White Appliances

White appliances offer a classic, timeless look and have been a kitchen mainstay for quite some time. They brighten up a kitchen, but do show dirt and debris and need to be cleaned often. White appliances provide a homey feel and are great for people who love to invite friends and family into their kitchen. Frigidaire and GE are well known for their white appliances.
Black Appliances

Black appliances give off a modern look, but can darken a room, making it seem smaller. This makes them more ideal for large kitchens. On the other hand, black appliances more easily hide smudges and dirt, reducing how often you need to clean them.
Whirlpool Sunset Bronze

A new finish color to Whirlpool's lineup, Sunset Bronze has a brushed, satin finish with rose gold undertones to provide a warm, neutral tint to appliances. The fingerprint-resistant finish complements several cabinet, countertop and flooring options, making it a versatile option.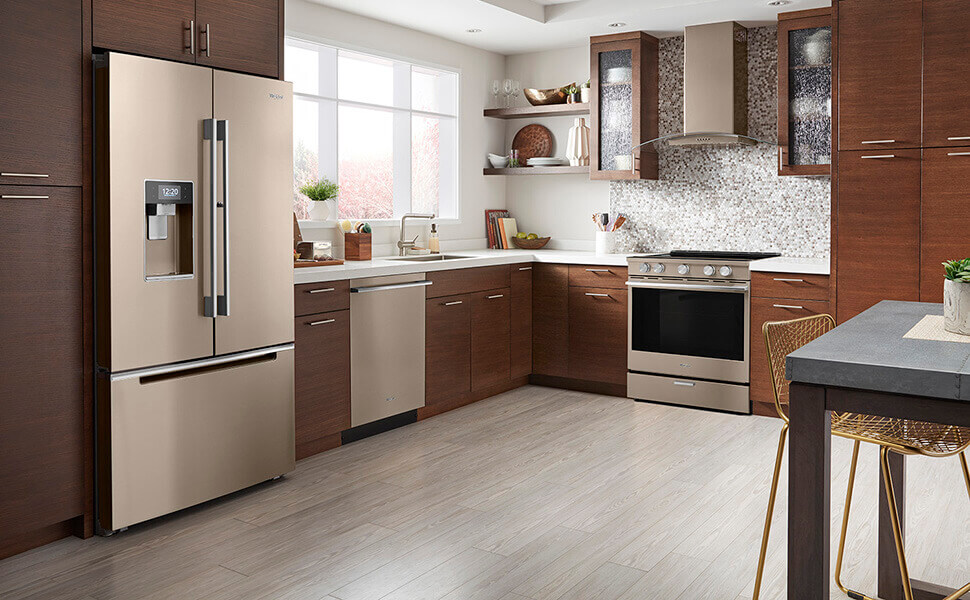 Whirlpool Sunset Bronze
Bisque Appliances
Throughout the '80s and '90s, bisque, or biscuit, was a popular appliance finish color. An off-white, this finish isn't as stark as a true white or stainless. Consumers often search for bisque today as a replacement option to match their existing appliances. GE manufactures Bisque; Whirlpool manufactures Biscuit.
Appliance Panels

For a fully integrated look, some homeowners choose paneled doors that allow the appliances to seamlessly integrate into your cabinetry. Panels are customized to match any kitchen. Due to its cost, this is an option you will typically see in premium appliances, such as those from Sub-Zero, Bosch, Jenn-Air, Miele and Liebherr.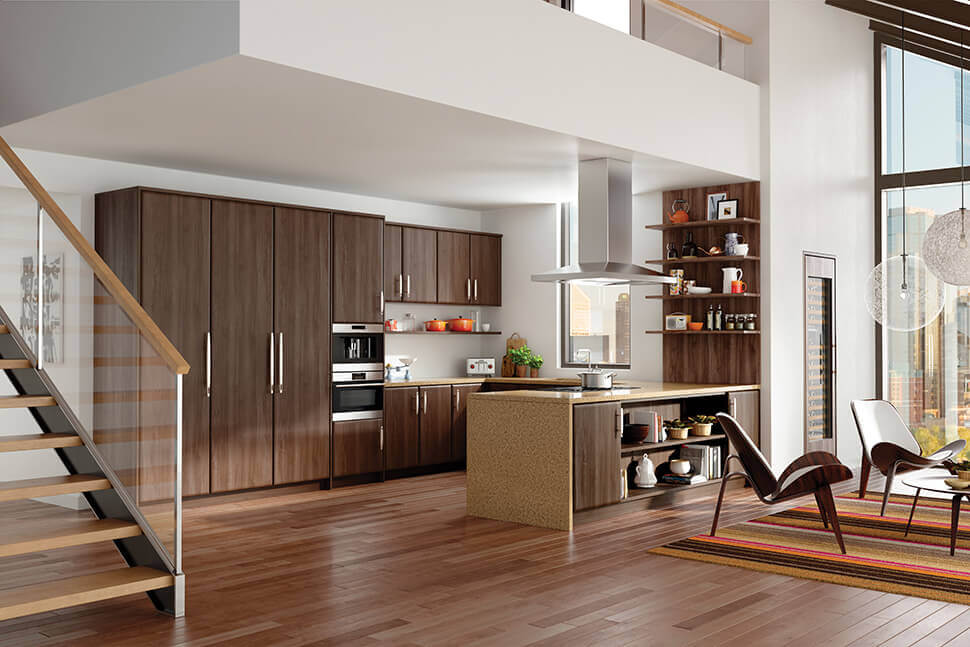 Sub-Zero integrated appliances
We hope you have found this buying guide to be useful and informative and we appreciate the time you took to read through it. If you have questions that were not answered by this guide, please feel free to contact us.